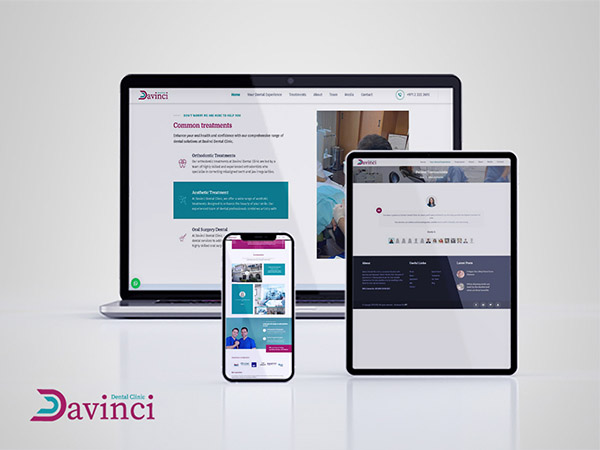 Unlimited Creativity Technology (UCT) is a dynamic web development company headquartered in Dubai, specializing in creating innovative digital solutions. Established in 2012, UCT has a track record of delivering cutting-edge websites that cater to various industries' unique needs. This case study highlights how UCT successfully collaborated with Davinci Dental Clinic to revamp its online presence and provide an exceptional platform to showcase its services.
Client Overview:
Davinci Dental Clinic is a leading dental polyclinic located in Abu Dhabi. With a commitment to delivering exceptional care and setting the standard for excellence in the industry, the clinic offers a comprehensive range of dental services to cater to diverse patient needs.
Challenge:
Despite Davinci Dental Clinic's exceptional services, the clinic faced challenges in establishing a robust online presence that reflected its expertise and professionalism. The existing website did not effectively communicate the clinic's commitment to advanced dental care or its comprehensive range of services. The challenge was to create an online platform that not only captured the essence of the clinic but also offered a user-friendly experience.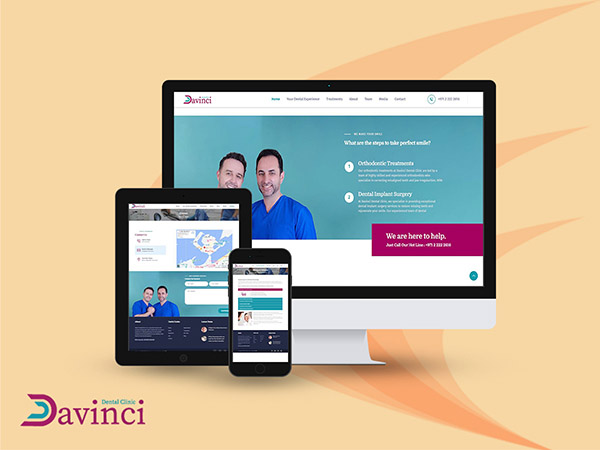 Solution by UCT:
Unlimited Creativity Technology (UCT) recognized the need to build a website that not only showcased Davinci Dental Clinic's services but also provided a seamless and informative experience for visitors. UCT's comprehensive solution involved the following key steps:
1. In-Depth Consultation:
UCT initiated the project with a series of consultations with the Davinci Dental Clinic team. This allowed UCT to understand the clinic's unique services, values, and vision. It was crucial to capture the clinic's commitment to excellence and patient satisfaction.
2. Design and Development:
Leveraging its expertise in web design and development, UCT created a visually appealing and user-friendly website for Davinci Dental Clinic. The website's layout, color scheme, and navigation were designed to resonate with the clinic's commitment to modernity and advanced dental care.
3. Content Creation:
To address the challenge of accurately representing the clinic's comprehensive range of services, UCT crafted well-structured content. This content highlighted the clinic's various treatments, including orthodontic treatments, cosmetic dentistry, oral surgery, and more.
4. Enhanced Features:
Beyond the contracted features, UCT went the extra mile by incorporating additional elements to improve user experience. These included an online appointment booking system, interactive treatment galleries, and patient testimonials.
5. Responsive Design:
Recognizing the importance of mobile responsiveness, UCT ensured that the website performed seamlessly across all devices and screen sizes. This feature enabled visitors to access the website conveniently from their smartphones and tablets.
Results:
The collaboration between Davinci Dental Clinic and Unlimited Creativity Technology (UCT) resulted in a remarkable transformation of the clinic's online presence. The new website effectively showcased the clinic's commitment to advanced dental care and patient satisfaction. With its user-friendly interface and informative content, the website offered an engaging experience for visitors, fostering a sense of trust and credibility.
The enhanced features, including online appointment booking and interactive galleries, empowered patients to explore the clinic's services and engage directly with the clinic. The responsive design ensured that visitors could access the website seamlessly, enhancing their overall experience.
In conclusion, UCT's strategic approach to web development successfully addressed Davinci Dental Clinic's challenges and provided a platform that aligned with the clinic's values and aspirations. Through meticulous planning, creative design, and technical expertise, UCT helped Davinci Dental Clinic establish a strong online presence that accurately represented its commitment to excellence in dental care.