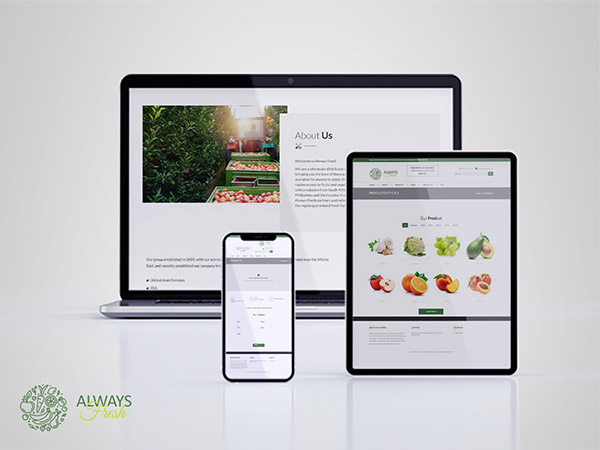 Unlimited Creativity Technology LLC (UCT) is a renowned web development company based in Dubai, established in 2012. With a strong commitment to innovation and excellence, UCT has been at the forefront of creating cutting-edge web solutions for businesses worldwide. This case study showcases how UCT collaborated with Always Fresh to overcome challenges and provide a tailored online platform, including website development, branding, and more.
Background:
Always Fresh is a prominent wholesale distributor of premium quality fruits and vegetables sourced from around the world. With a commitment to delivering the freshest produce, Always Fresh has expanded its operations across the Middle East, establishing a strong presence in multiple countries. However, in an increasingly digital world, the need for a robust online platform became apparent to facilitate efficient operations, reach a wider audience, and ensure customer satisfaction.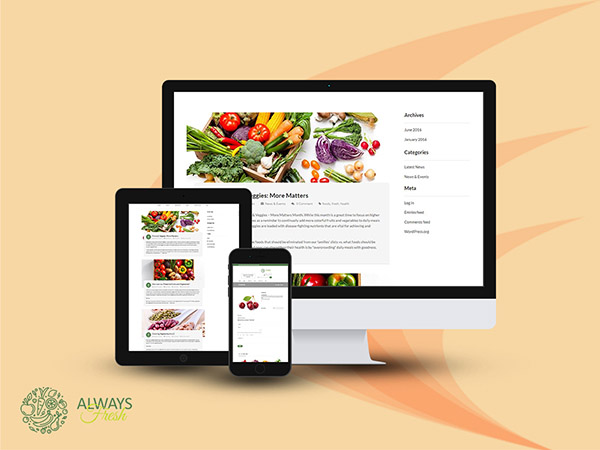 The Challenge:
The owner of Always Fresh faced several challenges:
Limited Online Presence: Always Fresh had limited visibility in the online marketplace, hindering its reach and accessibility to potential customers.
Lack of Branding: The absence of a cohesive brand identity made it challenging to establish a distinct and memorable presence in a competitive industry.
Inefficient Operations: Managing orders, tracking inventory, and coordinating with global suppliers required a more streamlined and efficient system.
Customer Engagement: Engaging with customers and providing information about the variety and quality of their products was a significant challenge.
Scalability: Always Fresh's vision included expanding its operations further, necessitating a platform that could grow with the company.
The Solution Provided by UCT:
UCT approached the challenges faced by Always Fresh with a comprehensive solution that covered all aspects of their digital transformation:
Website Development: UCT designed and developed a state-of-the-art e-commerce website for Always Fresh. The platform showcased their product range, allowed customers to place orders online, and provided detailed information about the company's commitment to quality.
Branding and Identity: UCT worked closely with Always Fresh to create a strong and cohesive brand identity. This included designing a logo, creating brand guidelines, and developing marketing collateral to enhance brand recognition.
E-commerce Features: The website incorporated advanced e-commerce features, such as real-time inventory management, order tracking, and secure payment processing, streamlining operations and enhancing customer experience.
SEO and Digital Marketing: UCT implemented a robust SEO strategy to improve the website's visibility on search engines, ensuring that Always Fresh's products reached a broader audience. They also devised a digital marketing plan to engage and retain customers.
Scalable Platform: Recognizing Always Fresh's growth aspirations, UCT built a scalable platform that could accommodate the company's expanding product range and customer base.
User Training: UCT provided training to Always Fresh's team, ensuring they could efficiently manage and update the website and e-commerce platform.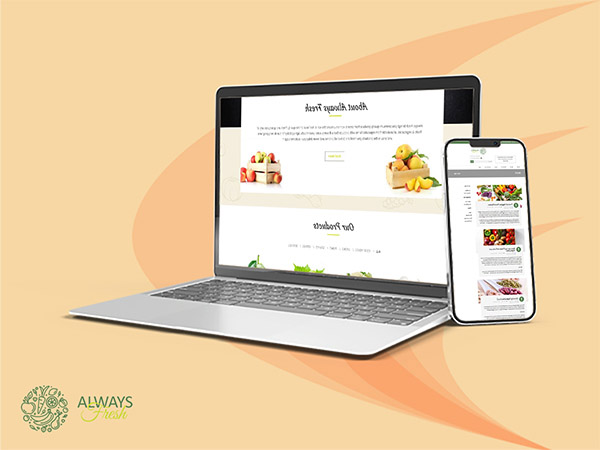 Results and Impact:
The collaboration between Always Fresh and UCT yielded impressive results:
Enhanced Online Presence: The new website significantly increased Always Fresh's online visibility, attracting a larger customer base and expanding their reach to new regions.
Strong Brand Identity: With a well-defined brand identity, Always Fresh established itself as a trusted and recognizable name in the industry.
Efficiency and Customer Satisfaction: The streamlined operations and user-friendly platform improved efficiency and customer satisfaction. Always Fresh could now manage orders seamlessly and engage with their clients effectively.
Scalability: The scalable platform provided by UCT allowed Always Fresh to expand its product range and customer base, supporting the company's growth trajectory.
Measurable Growth: Always Fresh experienced a substantial increase in online sales and customer engagement, translating into tangible business growth.
Conclusion:
Unlimited Creativity Technology LLC (UCT) played a pivotal role in helping Always Fresh overcome its digital challenges and establish a strong online presence. By delivering a comprehensive solution that included website development, branding, and more, UCT empowered Always Fresh to thrive in an increasingly competitive market. This success story illustrates how collaboration with a skilled web development partner can drive significant growth and transformation for a business.