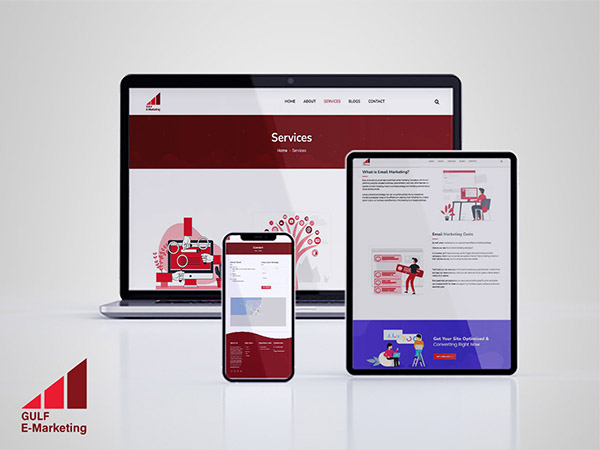 Gulf E-Marketing Agency is a dynamic digital agency passionate about helping businesses thrive in the ever-evolving digital landscape. With a results-driven approach and a commitment to personalized solutions, Gulf E-Marketing Agency offers an array of services, ranging from SEO to influencer marketing. Their mission is to provide clients with innovative strategies that enhance their online presence and drive tangible growth.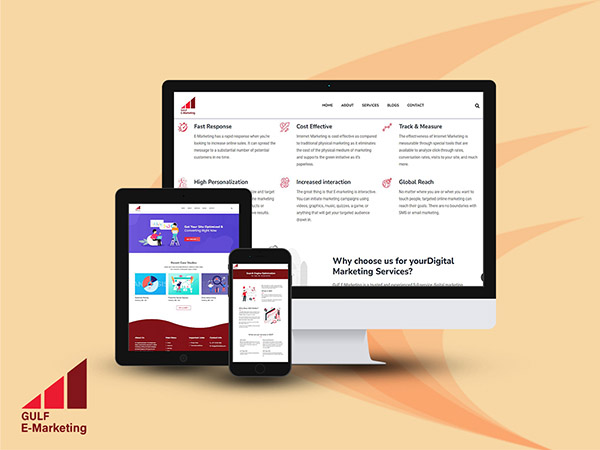 The Challenge: A Digital Presence in Need of Transformation
Gulf E-Marketing Agency recognized the need for an impactful online presence that mirrored their passion and expertise. Their existing website lacked the visual appeal and user experience that could truly represent their capabilities. They sought a solution that would not only reflect their commitment to excellence but also showcase their diverse range of services effectively.
The Solution: Unlimited Creativity Technology LLC (UCT) Steps In
Unlimited Creativity Technology LLC (UCT), a reputable web development company in Dubai with a history of crafting innovative digital solutions, took on the challenge. Established in 2012, UCT has a track record of delivering dynamic websites that combine aesthetics, functionality, and user experience seamlessly.
UCT's Approach: Elevating Gulf E-Marketing Agency's Brand
Discovery and Analysis: UCT's journey began with a comprehensive analysis of Gulf E-Marketing Agency's brand identity, services, and target audience. By understanding the core values and goals of the agency, UCT could tailor the website to resonate with their unique vision.
Strategic Design: UCT's design team embarked on creating a visual identity that conveyed Gulf E-Marketing Agency's professionalism and creativity. The design emphasized modern aesthetics, aligning with the agency's dedication to innovation. The website's architecture was meticulously planned to optimize user navigation and engagement.
WordPress and Advanced Plugins: UCT leveraged the power of WordPress to provide Gulf E-Marketing Agency with a user-friendly content management system. Advanced plugins were integrated to enhance functionality, ensuring smooth user interactions, and seamless navigation.
Content Strategy: Understanding the significance of content, UCT collaborated with Gulf E-Marketing Agency to develop engaging and informative content that communicated their services effectively. The content strategy focused on educating visitors while highlighting the agency's expertise.
Responsive Design: Recognizing the importance of mobile accessibility, UCT ensured that the website's design was responsive across various devices. This approach enabled Gulf E-Marketing Agency to engage their audience regardless of the platform they were using.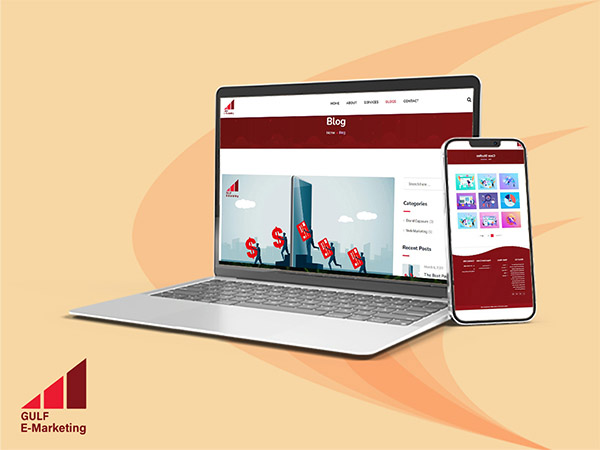 The Result: A Seamless Blend of Creativity and Functionality
The collaboration between Gulf E-Marketing Agency and Unlimited Creativity Technology LLC (UCT) culminated in the transformation of the agency's digital presence. The newly developed website captured the essence of Gulf E-Marketing Agency's values and offerings, presenting them in an aesthetically pleasing and user-friendly manner.
Conclusion: A Partnership That Drives Digital Success
The success of Gulf E-Marketing Agency's revamped website is a testament to the synergy between the agency's vision and Unlimited Creativity Technology LLC's (UCT) expertise. The website's intuitive design, advanced functionality, and responsive interface have elevated Gulf E-Marketing Agency's brand to new heights, setting the stage for continued growth and impact in the digital world.