Unlimited Creativity Technology LLC (UCT) is a prominent web development company based in Dubai, established in 2012. Over the years, UCT has built a strong reputation for delivering cutting-edge web solutions, and their commitment to innovation and client satisfaction is evident in their portfolio.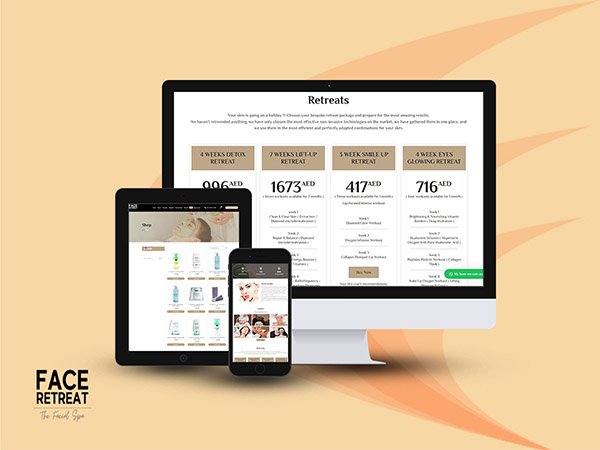 The Challenge: Face Retreat's Quest for Online Excellence
Face Retreat, a luxurious facial bar concept in Dubai, sought to enhance its online presence to better serve its clients and expand its reach. As a haven for skincare enthusiasts, Face Retreat needed a digital platform that would reflect its commitment to excellence and provide a seamless experience for its customers.
The Challenges Faced by Face Retreat:
Limited Online Presence: Face Retreat had a remarkable physical presence but lacked a robust online platform to engage with existing and potential clients effectively.
Diverse Service Offerings: With a range of customized facial programs and skincare workouts, Face Retreat needed a website that could elegantly showcase its services, therapies, and the holistic experience it offered.
User Experience: The website had to be intuitive, easy to navigate, and visually appealing to align with Face Retreat's commitment to a relaxing and luxurious atmosphere.
Security and Performance: Given the sensitive nature of the beauty and wellness industry, security was paramount. The website needed to handle data securely and perform seamlessly even during high traffic periods.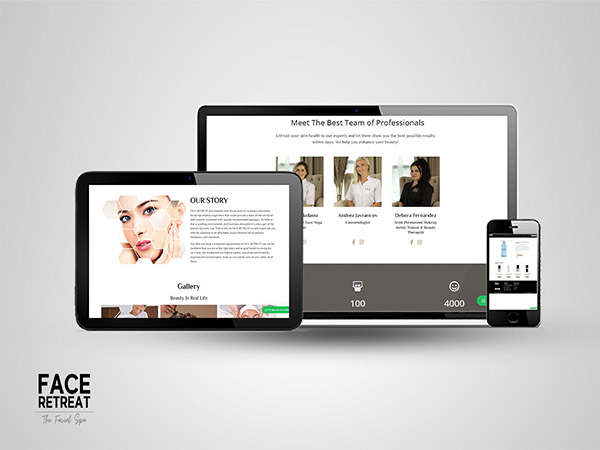 The Solution: UCT's Innovative Approach
Unlimited Creativity Technology LLC (UCT) understood the unique challenges faced by Face Retreat and embarked on a journey to provide a tailor-made solution that would elevate Face Retreat's online presence to match its physical excellence.
Key Elements of UCT's Solution:
Strategic Consultation: UCT initiated the project with a thorough consultation with Face Retreat's owner. They understood the brand's ethos, goals, and unique requirements.
Custom Website Development: UCT designed and developed a sophisticated, user-friendly website for Face Retreat. The website showcased the full range of facial programs, skincare workouts, and therapies available.
Elegant Design: UCT's team of creative designers crafted a visually appealing website that captured the essence of Face Retreat's luxurious and relaxing environment.
Security and Performance: Security measures were implemented to protect sensitive customer data, and the website was optimized for exceptional performance, even during peak usage.
Content Management System (CMS): UCT provided Face Retreat with a user-friendly CMS, enabling the team to easily update content and services as needed.
Mobile Responsiveness: The website was designed to be responsive, ensuring an optimal user experience on various devices.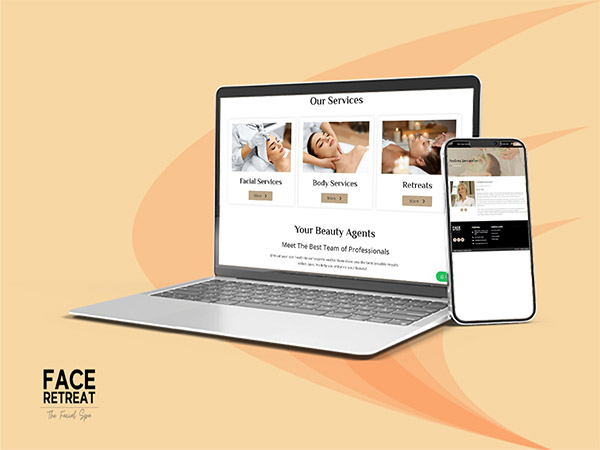 Results and Impact:
The collaboration between Face Retreat and Unlimited Creativity Technology LLC (UCT) bore remarkable fruit:
Face Retreat's online presence was transformed, allowing it to engage with its clients effectively and showcase its services with elegance.
The user-friendly website enhanced the customer experience and made it easier for clients to explore and book treatments.
Security measures ensured that customer data remained confidential, fostering trust and confidence.
The website's performance excellence ensured a seamless experience, even during high-traffic periods.
Face Retreat's owner expressed satisfaction with the outcome, highlighting that UCT had not only met but exceeded their expectations.
Conclusion:
Unlimited Creativity Technology LLC (UCT) succeeded in crafting a bespoke digital platform for Face Retreat that beautifully mirrored its physical excellence. This case study illustrates UCT's commitment to understanding client needs and delivering innovative solutions that drive online success. Face Retreat's journey towards an enhanced online presence stands as a testament to UCT's expertise and dedication to their clients' success.