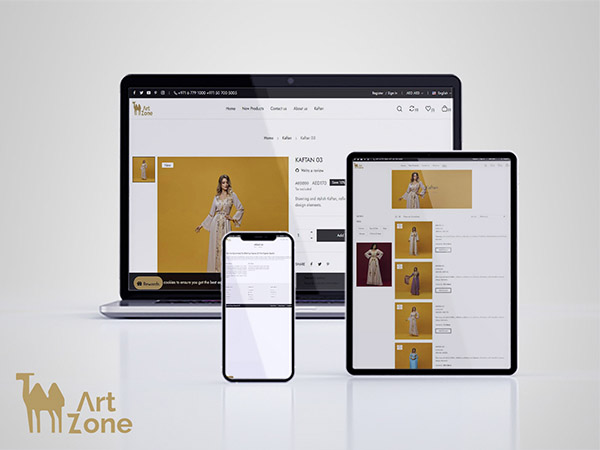 Unlimited Creativity Technology LLC (UCT) is a pioneering web development company headquartered in Dubai, established in 2012. Committed to innovation and excellence, UCT specializes in providing cutting-edge digital solutions that cater to a wide range of industries. With a diverse portfolio of successful projects, UCT has garnered a reputation for its exceptional expertise in crafting tailored digital experiences.
Introduction:
Art Zone, an esteemed Arab clothing shop renowned for its exquisite abayas and traditional wear, sought to enhance its digital presence and expand its reach to a global audience. UCT was entrusted with the task of developing a comprehensive online platform that would not only showcase Art Zone's unique collection but also provide a seamless shopping experience for customers. The challenge was to address Art Zone's specific needs and translate their intricate designs into a user-friendly website and mobile application.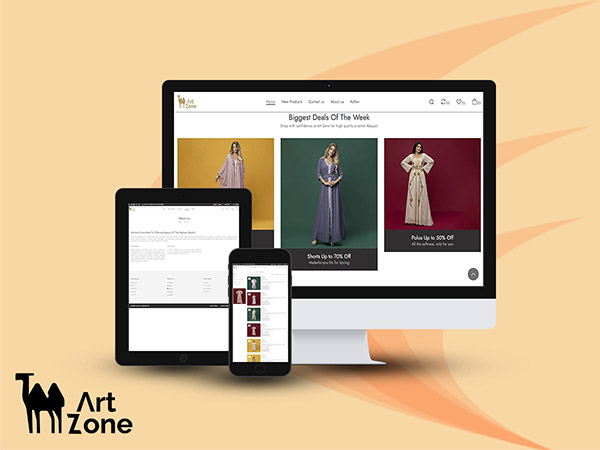 The Challenge:
Art Zone faced several challenges in its quest to establish a powerful digital presence:
Diverse Product Range: Art Zone's diverse product range, including abayas, kaftans, jalabiyas, hijabs, and more, required an intricate presentation that allowed customers to explore and appreciate the details of each item.
Modesty and Style: Balancing modesty with style was crucial for Art Zone. The platform needed to convey the elegance of their designs while adhering to cultural values.
Global Reach: Art Zone's goal was to reach a global audience, necessitating a multilingual and user-friendly interface that resonated with different cultures.
Interactive Experience: The platform needed to provide an interactive experience that emulated the in-store shopping experience, where customers could virtually try on abayas and visualize their appearance.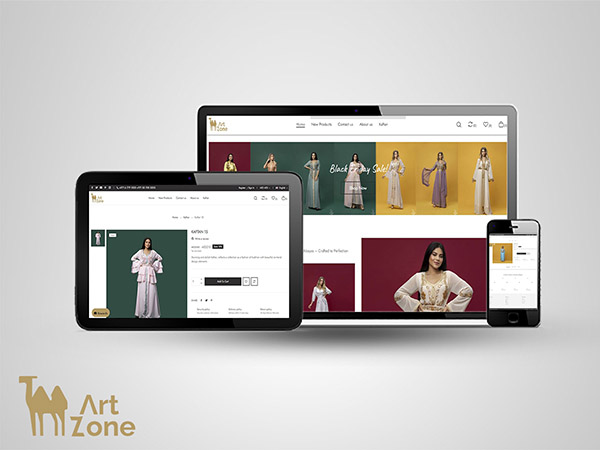 The Solution by UCT:
Unlimited Creativity Technology LLC (UCT) devised a comprehensive solution that perfectly addressed Art Zone's challenges and aspirations:
Tailored Web Development: UCT meticulously designed and developed a sophisticated website for Art Zone. The platform elegantly showcased their products, incorporating high-quality images and detailed descriptions to emphasize the craftsmanship.
Mobile Application Development: UCT went a step further by creating a mobile application for Art Zone, ensuring a seamless shopping experience for users on the go. The app incorporated all the features of the website while offering the convenience of mobile browsing and shopping.
User-Centric Design: UCT's design team carefully curated the platform's aesthetics, integrating an intuitive user interface that emphasized both modesty and style. The design elements were adapted to resonate with Art Zone's target audience, ensuring a cohesive and engaging experience.
Virtual Try-On Feature: To replicate the in-store try-on experience, UCT implemented an innovative virtual try-on feature. Customers could virtually try on abayas, kaftans, and other items using augmented reality, enhancing their shopping journey.
Multilingual and Global Reach: UCT integrated multilingual support, allowing customers from different regions to engage with the platform in their preferred language. This customization facilitated Art Zone's global expansion.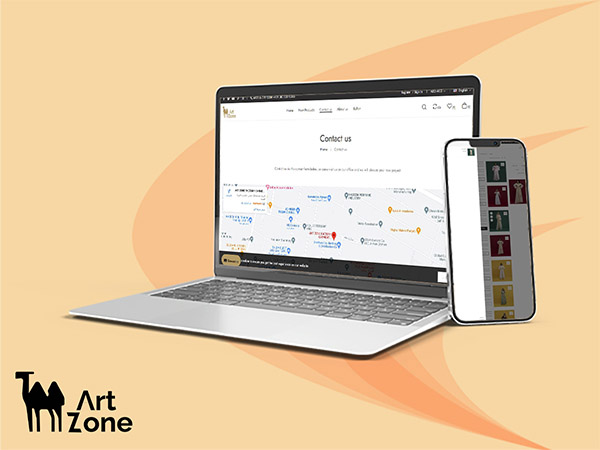 Outcome and Impact:
The collaboration between Art Zone and Unlimited Creativity Technology LLC (UCT) yielded remarkable results:
Enhanced Digital Presence: Art Zone's online platform, developed by UCT, captured the essence of their brand and products, translating the luxurious and high-end appeal of their abayas into a digital space.
Global Reach: With the mobile app and multilingual capabilities, Art Zone successfully expanded its reach beyond local borders, attracting a diverse international customer base.
Seamless Shopping Experience: The intuitive interface and virtual try-on feature improved the customer journey, making online shopping interactive and engaging.
Business Growth: The comprehensive solution provided by UCT contributed to Art Zone's growth, as the platform became a hub for customers seeking premium Arab clothing.
Conclusion:
The collaboration between Art Zone and Unlimited Creativity Technology LLC (UCT) exemplifies how innovative web development can transform a traditional business into a digital success story. By addressing Art Zone's unique challenges and needs, UCT delivered a comprehensive solution that not only met but exceeded expectations. The result is a visually stunning website and mobile app that mirrors the elegance of Art Zone's abayas and enhances the shopping experience for customers worldwide. This successful partnership stands as a testament to UCT's commitment to delivering exceptional digital solutions tailored to their clients' visions.